Waipahu Dentist Welcomes You
Premier Dental Group HI in Waipahu is dedicated to high-quality dental care in a warm and friendly environment. Our experienced team is here to help every member of your family improve their oral health. We treat you just like we would our loved ones, with thorough, gentle care, only making recommendations on the dental services that will help you meet your goals— nothing more, and nothing less.
Schedule Your Appointment Today!
We accept insurance and are an in-network provider for many plans. Care Credit is also accepted. Saturday appointments are available that fit easily into your schedule. Additionally, we speak Ilocano and Tagalog. Contact us today to get started!
We Truly Care!
We're proud to say that most of our new patients come to us through word of mouth thanks to other satisfied people in our community. We truly care about each person that walks through our door and look forward to meeting you. Read more about our dentist below!
Dr. Zachary Lee. At Premier Dental Group HI, every member of our team is dedicated to providing you with excellent dental care. From the moment you step in, we're committed to giving you an incredible experience every time you visit us.
Dr. Tina Mukai – Truly caring about and having an interest in people, Dr. Mukai gets to know patients and their families on a personal level and builds relationships with them over the years. She genuinely enjoys working with children and accepts young patients from the age of 1.
Alicia(Hygienist) Our friendly and caring dental hygienists want to help you achieve a healthy, bright smile.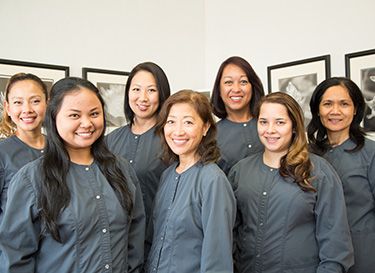 General dentistry
Examinations and cleanings
Oral cancer screenings
Sports and bruxism mouth guards
X-rays
Pediatric dentistry
Examinations and cleanings
Fluoride treatments
Restorations
Sealants
Restorative dentistry
Bridges
Crowns
Dental implant restoration
Fillings
Full and partial dentures
Inlays and onlays
Cosmetic dentistry
Cosmetic bonding
Crown lengthening
Porcelain veneers
Teeth whitening
Tooth contouring
Love This Place
"I am very pleased with the hospitality and fun nature of everyone in the office. I've been coming here for more than 15 years and the services provided are top notch and supreme. Very professional and they take care of all concerns. They make me feel welcomed each time I com, have many laughs together and just make me feel comfortable. Grateful to have such a wonderful doctor who provides the best care and a hygienist that's very delicate. I love this place and will continue to come for many more years." – Rayella P.
Gentle & Knowledgeable
"Amy Ogawa has been my dentist for thirty years. I trust her completely with my dental work. Amy is very gentle, knowledgeable, and treats me like family. Her staff is very friendly and accommodating. Dr. Ogawa and her staff are the right choice for your dental needs. – Linda S.
Best Dental Office
"Professional, knowledgeable, and compassionate" describes the staff of Dr. Amy Ogawa. Whenever I visit "the best" dental office, I feel as though I'm visiting my family. The value proposition has been reliable, efficient, and worth every penny to a busy working person. Dr. Ogawa has been a role model for our students, a local girl who has given back to Hawaii's community with her generous services to the University of Hawaii dental program and to educational programs in Hawaii. – Jean M.
Caring & Friendly
"I have been a loyal patient of Dr. Amy Ogawa for the past 25 years. She is the most caring, friendly and professionally competent dentist that I could ever ask for. Her office runs like a well-oiled machine where patients are scheduled and seen on time and treated with respect in an environment where you feel like part of the family. The phrase "gentle dentistry" perfectly describes Dr. Ogawa's style of practice. Because of Dr. Ogawa and her outstanding staff, I have been a compliant patient partnering with them to achieve my goal of great long-term dental health. Thank you again Dr. Ogawa!" – Mark B.