Kapaa Dentist Welcomes You!
At Premier Dental Group HI in Kapaa, we serve the community with a broad range of dental solutions. All aspects of dental care, even more complex services such as implants or root canals, can be taken care of under one roof without the need to be referred to an outside facility. Your entire family can get the high-quality care they need with our experienced staff.
Schedule Your Appointment Today!
Our Kapaa office provides 24-hour emergency care and has same-day appointments. Insurance is accepted as well as CareCredit.
A Welcoming Environment
Our dental team always puts you first. In a warm and welcoming environment, you'll be in excellent hands to have your every need tended to. Find out more about our dentists at the links below!
Dr. Glenn Takaki: Dentist Hawaii, Dr. Glenn Takaki with many family members in the medical field, Dr. Glenn Takaki knew early on that he would enter the health profession.
Dr. Brent Ching (Pediatric Dentist specialist)
Our new patient offer includes a comprehensive examination, full mouth X-rays and a cleaning for just $222. Contact us today to book your time! We speak Spanish and Bulgarian.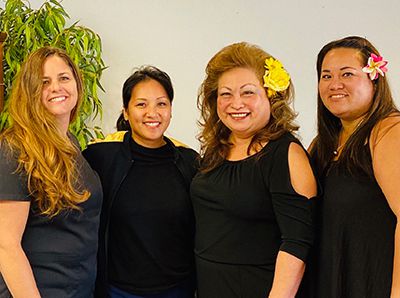 General dentistry
Examinations and cleanings
Oral cancer screenings
Sports and bruxism mouth guards
X-rays (CT and 3D)
Pediatric dentistry
Examinations and cleanings
Fluoride treatments
Sealants
Oral surgery
Dental implant placement
Tooth extractions
Wisdom teeth extractions
Periodontics
Bone grafting
Scaling and root planing (laser-guided)
Tissue grafting
Restorative dentistry
Bridges
Dental implant restoration
Fillings
Full and partial dentures
Inlays and onlays
Same-day crowns
Cosmetic dentistry
Cosmetic bonding
Crown lengthening
Porcelain veneers
Teeth whitening
Tooth contouring
Other Treatments
Invisalign®
Root canal therapy
Temporomandibular joint (TMJ) disorder treatment
Great First Experience!
"Months ago one of my fillings popped out and I never had the money to go see a dentist. I heard there was a new dentist in town and I recently got new medical insurance and decided to get my tooth fixed since it started to bother me. Everyone there had a great personality which was comforting.
Eventually I found out that there was more than just the filling falling out. The tooth was infected so I would need to have a root canal. Being that my insurance just started it wouldn't have covered the root canal. My portion would have been almost $900 which I did not have the money for. The Dr. gave me my options because I still needed to fix another tooth that he seen a filling shatter.
My options were to have the tooth removed at $100 or do the root canal at $900. He gave me all the information I needed to make my decision. So I decided to have the tooth removed and come back to fix the other tooth. He is a great dentist and I had a great first-time experience with him and will continue to stay there." – Kala O.